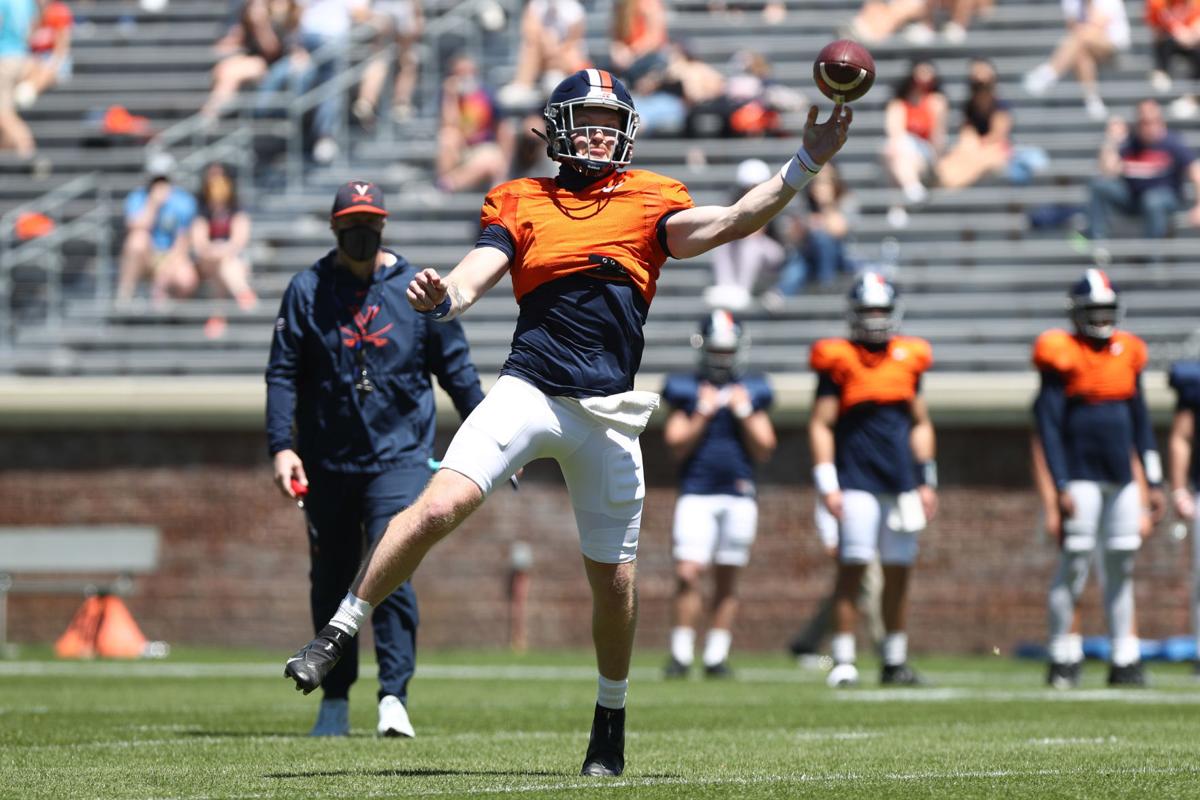 Many themes apply to the spring football practices that recently concluded around the ACC. Established quarterbacks abound, but for the first time since 2013, no league team returns a 1,000-yard rusher. The ACC is the lone Bowl Subdivision conference without coaching turnover, yet its 2020 coach of the year no longer works in the league.
One year after COVID-19 wiped out spring workouts, and less than six months after the most irregular season on record, players and coaches treasured the return to routine. Oh, there were virus-related delays at Georgia Tech, Pittsburgh and Duke, but each of the conference's 14 programs completed the 15 practices allotted by the NCAA.
"I've always loved not just the value of spring but the tone of spring," Virginia Tech coach Justin Fuente said. "It's about teaching, it's about development. It's about good versus good.
"You don't have scout teams. You get guys a chance to go try and play. For the guys who have been redshirted and running other people's plays all fall, they get a chance to run your system and get out there and compete for jobs. So not only is it incredibly valuable for our players and our coaches, it's the most enjoyable time of the year."
Losing that player-development piece last year affected every team, none more than those transitioning to a new head coach and/or coordinators. This spring's teaching sessions should do wonders, then, for the second-year big whistles at Florida State (Mike Norvell) and Boston College (Jeff Hafley), plus second-year coordinators such as Virginia Tech's Justin Hamilton (defense), Miami's Rhett Lashlee (offense) and N.C. State's Tim Beck (offense).
Spring games/scrimmages also afforded several schools the opportunity to host more fans than during the 2020 season. Virginia's crowd of approximately 5,000 for Saturday's final spring scrimmage was five times larger than was permitted for the Cavaliers' 2020 home dates.
"And the number of tickets that were available, they were all gone," UVA coach Bronco Mendenhall said. "… I was so appreciative of that, my team was. … It speaks volumes to us as a team and a staff, and we're so thankful. … It's also different playing in front of fans than not. It's hard to even remember what that's like right now, but it does make a difference in terms of the energy.
"It does make a difference in terms of other people seeing you, right? … Kind of holding you accountable for your preparation, right? That makes a difference. And then, it's just more fun. I would love to say it's the same with or without — it's not even close."
The spring wrapped, coaches now brace for the June 1 resumption of in-person recruiting, which promises to be a monthlong whirlwind of evaluation camps and official, on-campus visits from prospects. Staffs will decompress briefly during July before ramping up preparations for a year when the ACC will attempt to mend a reputation dinged by an 0-6 bowl record, the first winless postseason in history for a Power Five conference playing more than three bowls.
Postseason opt-outs by players and teams contributed, but until the league again defeats top-shelf nonconference opponents, the 0-for will linger.
Quarterback riches should aid the effort.
North Carolina's Sam Howell heads the group, and with 68 touchdown passes in two years, he could, in what almost certainly will be his final college season, threaten the ACC career mark of 107, set by Clemson's Tajh Boyd from 2010 to 2013. But there are plenty more.
Virginia's Brennan Armstrong, Boston College's Phil Jurkovec, Wake Forest's Sam Hartman, Virginia Tech's Braxton Burmeister, Pitt's Kenny Pickett, N.C. State's Devin Leary, Louisville's Malik Cunningham and, if recovered from offseason knee surgery, Miami's D'Eriq King give their fans reason for hope.
And weep not for six-time defending ACC champion Clemson, where D.J. Uiagalelei figures to thrive as Trevor Lawrence's successor. He threw 117 passes, five for touchdown, without an interception as a freshman last year.
Unlike 2020, when Clemson's Travis Etienne, Louisville's Javian Hawkins and UNC's Michael Carter and Javonte Williams returned, there are no marquee running backs in the league. But don't sleep on Duke's Mataeo Durant and N.C. State's Bam Knight, who last season averaged 6.8 and 5.5 yards per carry, respectively.
Entering their 14th season on the job, Clemson's Dabo Swinney and Duke's David Cutcliffe are the deans of the conference's unchanged coaching ranks. Well, unchanged except for Brian Kelly and Notre Dame's exit from the league after a one-season, pandemic-induced cameo in which Kelly earned coach-of-the-year honors.
While the Fighting Irish return to independence, the ACC returns to divisional play, where Clemson lords over the Atlantic and the Coastal remains a coin flip.
Opening weekend is less than four months away.