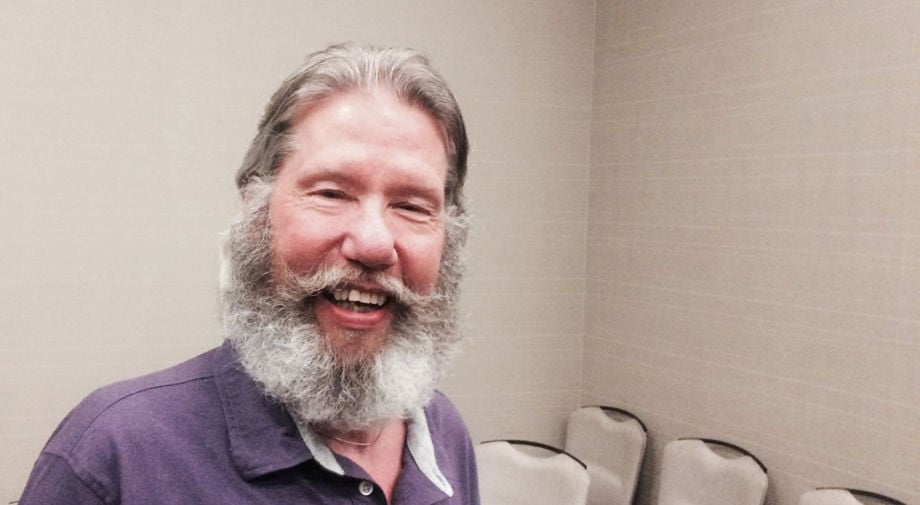 NEW ORLEANS — If you are innocent, three decades in prison is a long time to think about the people who put you there.
Keith Allen Harward had a lot bottled up, and he let it loose Monday at the largest annual gathering of its kind in the world, the 69th annual meeting of the American Academy of Forensic Sciences.
"I'm not here to make any friends," began Harward, who was sent behind bars for rape and murder largely on the erroneous testimony of two forensic dentists, known as forensic odontologists.
At a conference workshop Monday with a number of forensic dentists listening, Harward, his voice rising, said, "This stuff is all crap. It's bogus. This bite mark stuff is bogus. Why even continue with it? It just doesn't make sense."
"Thirty-four years thinking, 'Wow, what just happened?'" he said of his convictions.
"You're taking people's lives in your hands and guessing, 'Well, I say it is so, so it's got to be.' There's no Gods in here. So why do it?"
He said the only motives he could think of were "money and ego."
The workshop, "Taking a Bite Out of Crime and Other Hairy Situations," concerned shortcomings in forensic bite mark and hair analysis exposed by DNA exonerations and outside studies in recent years.
Exonerated by DNA last year, Harward was wrongly linked by bite marks to a savage 1982 rape and murder in Newport News and might have perished in the electric chair had his distraught mother not begged jurors to spare his life.
The former U.S. Navy sailor's parents died while he was behind bars. He was imprisoned in large part as a result of testimony by the two forensic dentists who said that his teeth matched bite marks on a rape victim left by an assailant who had just beat her sleeping husband to death with a crowbar.
No fewer than six dentists, among them leading figures in the field of forensic odontology, were involved in Harward's case .
Since Harward's 1983 and 1986 trials, bite mark evidence has been questioned and undermined by numerous studies, and erroneous bite mark analyses have played a part in at least 28 wrongful convictions and arrests across the country.
Chris Fabricant, one of Harward's lawyers with the Innocence Project, also spoke at the workshop and outlined Harward's case. "We know from our experience that any conviction that rests on bite mark evidence is inherently unreliable. It's just reality."
"For purposes of our discussion here today I just want you to accept that there's no science there."
Last year the President's Council of Advisors on Science and Technology found, "Bite mark analysis does not meet the scientific standards for foundational validity, and is far from meeting such standards.
"To the contrary, available scientific evidence strongly suggests that examiners cannot consistently agree on whether an injury is a human bite mark ... with reasonable accuracy."
Fabricant said bite mark evidence is especially pernicious because it makes the accused look like an animal.
A prosecutor can say, " 'That animal bit that poor victim and science and science says so.' "
At least four other dentists were involved at one time or another during the case, and none of them disputed the conclusions of the two dentists who testified.
Fabricant said Harward's is the only case the Innocence Project knows of where the defense was unable to get an expert to testify on his behalf, which is unusual given that the technique is inherently subjective.
And unlike in other cases, there was no question that they were actually human bite marks because the victim testified that she was bitten by the assailant, noted Fabricant.
The American Board of Forensic Odontology has changed its standards and no longer sanctions specific biter identifications.
Instead, forensic odontologists decide if comparisons either exclude or cannot exclude someone as the biter, or that there was insufficient information.
But until there is a scientific basis established for bite mark analysis, the Innocence Project and other critics, such as Harward, are fighting to keep such analysis entirely out of criminal trials — something no court in the country has thus far done.
The American Board of Forensic Odontology and many prosecutors believe that is throwing the baby out with the bathwater. Forensic dentists still can provide accurate evidence provided it is placed in proper context, they contend.
Fabricant counters that Harward's case, in which a Navy dentist initially excluded Harward and then later changed his mind, proves experts no more can reliably exclude anyone on the basis of bite marks than they can identify someone.
Another workshop speaker, Anthony R. Cardoza, a dentist who does forensic consulting, also pointed out that excluding someone can be as dangerous as including them — if the pool of suspects is small, such as a family, it raises more suspicion about those who are not excluded.
Jurors at Harward's trials were briefed on the international renown of one of the experts, Lowell Levine. Among other things, Levine helped convict serial killer Ted Bundy and identify the remains of Joseph Mengele, the notorious Nazi doctor and longtime fugitive.
In 1976, Levine was a founding member of the American Board of Forensic Odontology and later served a term as president of the 6,700-member American Academy of Forensic Sciences.
Levine testified that Harward's teeth and the bite marks on the rape victim matched "to a reasonable scientific certainty."
He added, "It's a practical impossibility that someone else would have all these characteristics in combination," he said.
The other forensic dentist who testified against Harward concluded they matched "to a reasonable medical certainty."
Levine, who is registered to attend the conference but who was not at Monday's workshop, has not returned requests for comment from the Richmond Times-Dispatch. A top official with the American Board of Forensic Odontology did not return a request for comment last week.
Fabricant said Levine was so convincing that even Harward's brother — who knew he was innocent — had some doubts. "It's such powerful evidence," Fabricant said.
Harward said Monday that after listening to Levine's background at his trial, "The jury was just slobbering, they were gone. (He) was like the Wizard of Oz. He levitated."
Harward — who has acquired a tan, about 30 additional pounds and a beard since he was released from the Nottoway Correctional Center last April 8 and now lives in Greensboro, N.C. — said he read in a news account that Levine said such conclusions were accepted at the time.
He asked those attending the workshop how many of them have supported slavery or the Holocaust. They were accepted at the time, he said.
"For him (Levine) to say a thing like that — you all should be ashamed to be part of what he's a part of. You should be, because it's just not right."
"Consider this: I had two people in the state of Virginia trying to murder me. Two of 'em. They knew from the outset that my case was a capital case," he said.
Harward met a number of odontologists and said, "I've come to find that there's some good people out there, but there are still people who are on the fence" about whether to completely eliminate forensic bite mark analysis until more is known.
"Why even give it a shot? Why even discuss it any more? Just do away with it," he said. "You need to stop this. And if you're not part of it, stop the others that are."
Several speakers at the conference alluded to contention within the American Board of Forensic Odontology about the future of bite mark analysis — odontologists also identify human remains via teeth and dental records, a pursuit that is not controversial.
Harward said, "There's a lot of infighting amongst y'all people right now. And what's the question? Just stop it. Just don't do it anymore. Then there's no chance of making any mistakes."
"This is a warning — if I find out anybody's testifying in bite mark evidence cases I will come to the courtroom, I will contact the media, I will stand on the street corner in a Statue of Liberty outfit with a big sign saying 'This is Crap.'"
"You can understand the media would love to talk to me about something like this," and he promised to speak to every camera on hand wherever bite mark evidence is being used in a trial in any fashion whatsoever.
"Because I don't care. What's the worst that can happen to me? Like I said, it already has."