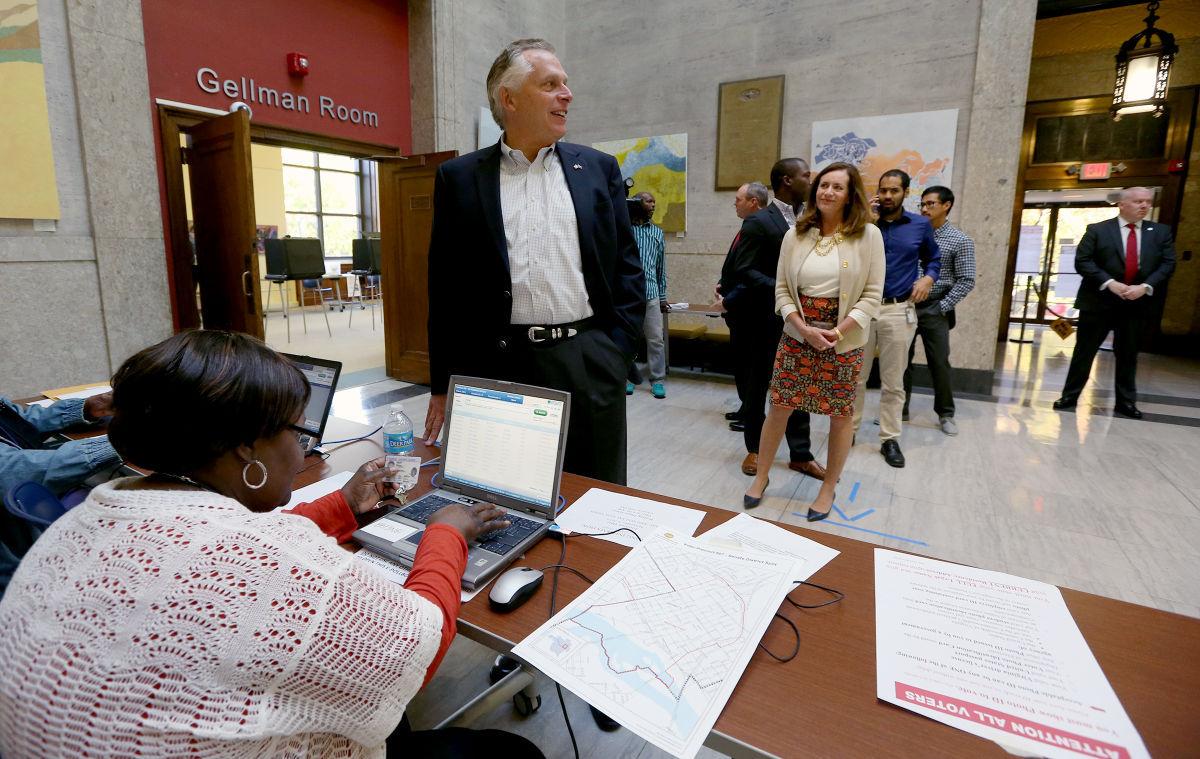 No change in control of the Virginia Senate likely means big changes for Gov. Terry McAuliffe — and at the worst time, too.
Concluding a $43 million legislative election, the Democrat enters the closing two years of his administration as he did the better part of the opening two: facing a Republican-dominated General Assembly. Republican hostility for McAuliffe was further fueled by a campaign in which both parties seemed more interested in harnessing anger than advancing ideas — whether it was gun violence or highway tolls.
The hard-fought election may have been largely local, but it was national in tone and technology and was a closely watched preliminary to the 2016 presidential campaign in which purple Virginia — which fell to Barack Obama in 2008 and 2012, ending a four-decade Republican run — will be contested by both parties.
The presidential election may be more deeply personal for McAuliffe than the setback he suffered Tuesday. He is hoping Hillary Rodham Clinton is the Democratic nominee — McAuliffe is a member of the Clinton inner circle — and he is determined to deliver Virginia for her as a measure of the political clout he so far lacks.
McAuliffe gambled in excess of $4 million from his personal political action committee and more than $2 million from a gun-control organization controlled by former New York Mayor Michael Bloomberg in a failed attempt to flip the Senate and achieve a slim measure of traction at a defining moment in his nonrenewable term.
Republicans, drawing millions from their out-of-state backers, retained their slender 21-19 edge in the Senate. Paired with the burly 2-to-1 GOP majority in the House of Delegates, it portends stubborn obstacles for McAuliffe in implementing his first and only full two-year budget. It is typically the fiscal foundation of a Virginia governor's legacy.
But few of the state's governors have found themselves in a predicament such as McAuliffe's. The Republican legislature is almost uniformly conservative, resistant to proposals that McAuliffe hoped would drive Democrats, many of them liberal, to the polls: further restrictions on firearms and a Medicaid-financed expansion of Obamacare.
In 2004, when Democrat Mark R. Warner moved to supplement his budget with $1.4 billion in new taxes for public safety, human services and education, he could rely on a handful of moderate Republicans. Nearly 12 years later, few of them remain, denying McAuliffe a possible cushion for his program.
McAuliffe says his budget will include new investments in education, likely aid for struggling inner-city school districts as well as teacher salaries and instructional initiatives that complement his emphasis on economic development. Republicans may find some of these proposals agreeable, particularly those from poorer rural districts.
But Medicaid-for-Obamacare seems a goner. Ditto: General Assembly approval of his interim pick for the Virginia Supreme Court, Jane Marum Roush. The Republicans seem intent on removing her if only to remind McAuliffe that judicial picks, as a form of political patronage, are principally controlled by the legislature.
However, it's possible McAuliffe can trade Republican votes for Roush's confirmation for goodies in a budget that could reach $100 billion. The budget will be stabilized by funds from the just-approved, two-year deal on the federal spending that shields Virginia from more of the across-the-board spending cuts that had deepened the recession's grip on the state.
Because of his veto, the governor is not entirely helpless against a Republican bulwark that may decide to wait him out, hoping conditions improve for the party in the 2017 statewide election to select McAuliffe's successor. The GOP has been reduced to a legislative party, propped by gerrymandering and largely shut out in presidential, gubernatorial and U.S. senatorial elections over the past decade.
All of which is to say Republicans have problems, too. It's just that they were overshadowed yesterday by McAuliffe's embarrassment.