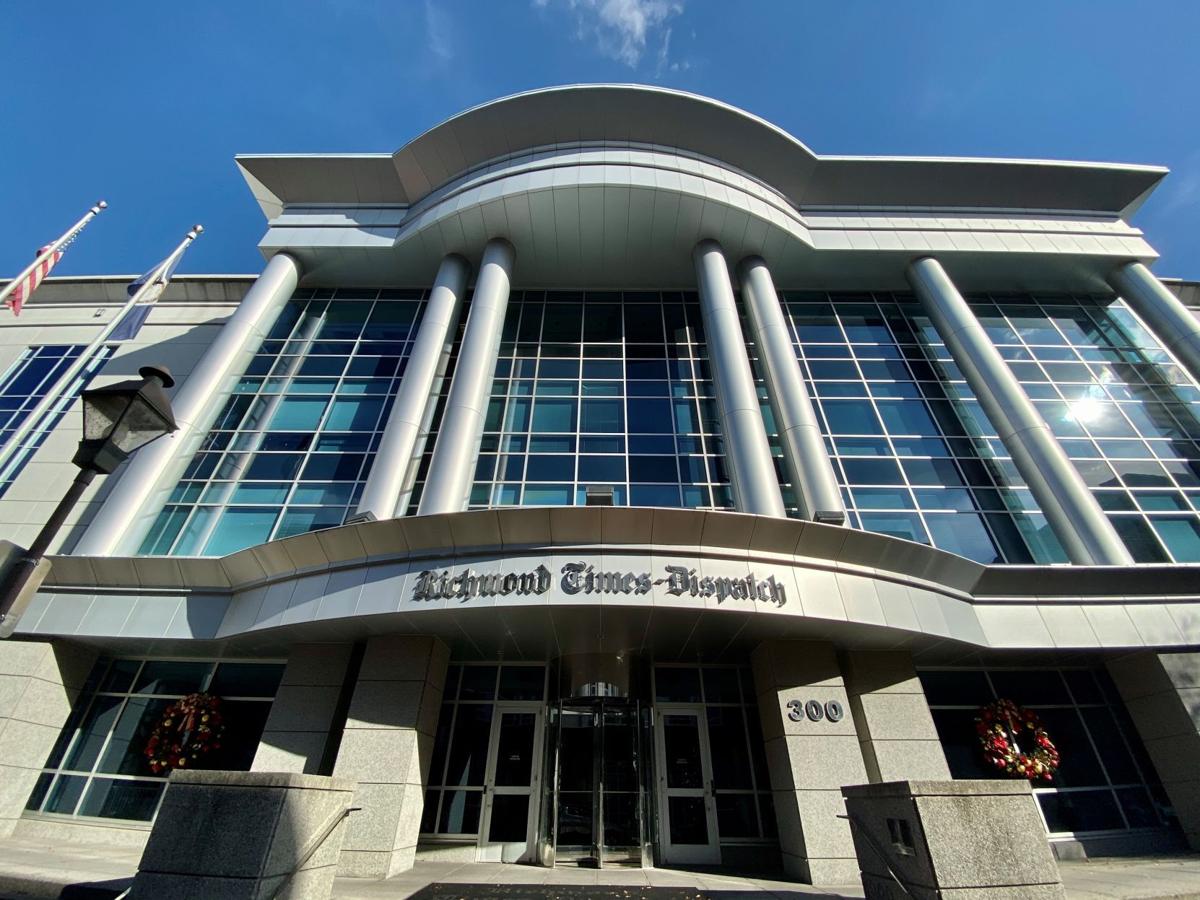 The Richmond Times-Dispatch's role last year in reporting on everything from the pandemic and vaccines to the protesting of racial injustice after the murder of George Floyd was critical to informing and shaping our community.
And our work has never been as important as it has been since March 2020.
As I wrote in March, on the year anniversary of the first positive COVID-19 case in Virginia, our coverage is informed by our shared humanity and a deeper understanding of where we've been and where we hope to go.
Looking back over 2020 and all that we covered, the results are remarkable. As it did for all our readers, The Times-Dispatch's coverage gave me a deeper understanding as well.
Our work changed our community, and it changed me. How our newsroom came together through some very tough and emotional times with necessary conversations left the most indelible mark.
Our coverage changed people and policy. It mattered.
It also reinforced my belief that The Times-Dispatch has the most amazing staff — as if I needed a reminder, since I see it and live it every day. But that belief was shared across the state and region recently when the 2020 Virginia Press Association awards were announced in late April.
The RTD racked up 67 total awards in the News and Advertising contests, as well as the Grand Sweepstakes Award for the fourth year in a row (an honor for the newspaper that earns the most overall points in the contest), Best in Show for data stories and the top award of Outstanding Young Journalist, an honor that went to our own Sabrina Moreno for her coverage of the pandemic and inequality.
It was a record-setting haul for The Times-Dispatch. I can't tell you how proud I am of this team. Well, actually, I can. And I will.
First off, we don't do this job for the awards. We do it because we believe in the work and the responsibility the free press has in our society, especially now. More than ever.
But it's nice to know that people are paying attention and recognize the work we do.
And we did a lot of work in some very tough conditions in 2020 — as did a lot of other people across the state, region and country. We lived it and covered it. And we did it as a team.
And I couldn't be prouder.
Here are just a few examples:
Colleen Curran's coverage of women in the workforce, leaving in record numbers to take care of their families amid the pandemic, as well as how out-of-work Virginians are still struggling to get answers — and money — from unemployment was incredibly insightful and real.
Kenya Hunter's education coverage was best in the state, and as one VPA judge said, "Hunter's focus on diversity, particularly in the strongly reported enterprise piece on discipline, made this entry a standout ..."
Mark Robinson showed his ability to write about many subjects authoritatively, winning four first-place awards from breaking news about the removal of the Stonewall Jackson monument to feature/continuing story to data journalism.
Moreno provided essential watchdog coverage of the holes in Virginia's race and ethnicity reporting in vaccine distribution and data collection. She and fellow reporter Mel Leonor pushed our state government to face those disparities and act.
Moreno's reporting on the effect the pandemic has had on children revealed a surge in mental health needs for Black and Latino kids.
Designers Justin Morrison and Kira Rider took the top two places in page design, highlighting our incredibly talented design desk. Shawn Cox and Symea Fitts' headlines also took the top two spots in that category.
Our sports department swept the writing portfolio awards with Wayne Epps, Zach Joachim and Mike Barber winning first, second and third, respectively.
Our photo department also swept the picture story or essay category, taking the top three places for their coverage of protests, monument removal and living in the pandemic.
We also covered unprecedented local, state and national elections, the likes of which may never be seen again.
All of our journalists — reporters, photographers, designers, copy editors, managers — are amazing and worthy of all the accolades and praise. They've proven time and time again that no matter the circumstance, they will answer the bell and bring their best every day. That was shown in the record award tally.
Sabrina Moreno is a specific example of this. Yes, there are plenty in this amazing newsroom, but allow me to share this one. And the nomination letter that her then-editor Karri Peifer wrote on her behalf for the award exemplifies the passion and pride our management team has for our staff.
Here are some excerpts from Peifer's nomination letter:
On Jan. 20 of this year, as the nation prepared to watch the inauguration of a new president, Richmond Times-Dispatch journalist Sabrina Moreno typed out her morning note to editors, outlining her plan for the day: a daily story on that state's latest COVID numbers, including President Biden's plan to speed up vaccine distribution; a tour of local health department's vaccine storage; monitoring of a city presser about COVID; and continued work on a deep-dive weekend story about holes is Virginia's ethnicity reporting on vaccine distribution — a report that within days would trigger the state's Health Commissioner to send a letter to clinicians requesting they begin collecting the data, followed by proposed legislation in the state legislature the next day to mandate it.
That day, Jan. 20, Sabrina would note in her morning email, also marked two anniversaries: one year exactly since the nation's first COVID case was reported — and her own one year anniversary with the Times-Dispatch. It was the conclusion of her first full year with the Times-Dispatch, her first full year working as a full time reporter, and her first full year working at all since graduating college in May 2019.
Sabrina, now 23, came to us as an intern in January 2020. It didn't take long for her to be hired to a full-time position and make her impression felt. She's written about nearly everything the past year, but her work on inequality and COVID is remarkable.
But, like the nomination letter stated, Sabrina is more than just an incredible reporter.
She is, genuinely, a delightful person to be around and has a positive attitude that's infectious. "How can I be of help?" "I've got it." "Let me know if you need any single other thing." These are the phrases Sabrina types in reply to her colleagues and editors — into Slack messages, texts and over email. "What can I do for us today?" This is Sabrina Moreno.
This is what we do. This is who we are. This is what we aspire to become.
Currently, you can get five months of all-access coverage on Richmond.com for just $5.
Local journalism is important. We ask you to support it.
Mike Szvetitz is the managing editor of the Richmond Times-Dispatch. He may be reached at mszvetitz@timesdispatch.com or (804) 649-6456.